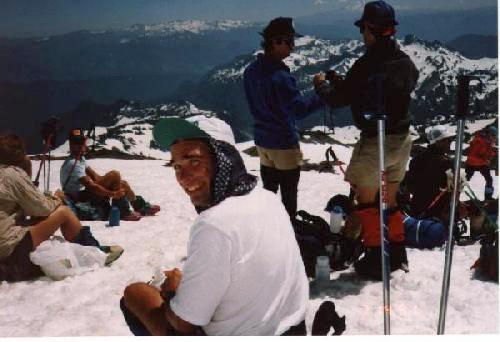 Russ Hall lives on the north shore of Lake Travis near Austin, TX. An award-winning writer of mysteries, thrillers, westerns, poetry, and nonfiction books, he has had more than thirty-five books published, as well as numerous short stories and articles. He has also been on The New York Times bestseller list multiple times with co-authored non-fiction books, such as: Do You Matter: How Great Design Will Make People Love Your Company (Financial Times Press, 2009) with Richard Brunner, former head of design at Apple, and Identity (Financial Times Press, 2012) with Stedman Graham, Oprah's companion. He was an editor for over 35 years with major publishing companies, ranging from Harper & Row (now HarperCollins), Simon & Schuster, to Pearson. He has been a pet rescue center volunteer, a mountain climber, and a probable book hoarder who fishes and hikes in his spare moments.
In 1996 he won the Nancy Pickard Mystery Fiction Award for short fiction (awarded by the Red Herring Mystery Magazine of Kansas State University). In 2011 he was awarded Sage Award, by The Barbara Burnett Smith Mentoring Authors Foundation–an award for the mentoring author who demonstrates an outstanding spirit of service in mentoring, sharing and leading others in the mystery writing community. In 2014 he won First Place in the Austin International Poetry Festival. In 2015 The Writers' League of Texas awarded "To Hell and Gone in Texas" its Fiction Discovery Prize.
Russ Hall's dogs: Tuffy, Amigo, Skipper, and Bear. Tuffy, a Chiweenie, was 15 when adopted and they had 2 1/2 pampered years together. Amigo, a Chihuahua, was 10 after spending nine years in a pet rescue center. He had 5 1/2 wonderful years of mellowing out. Skipper, a Schnauzer, was 14 when he came aboard, and was every bit as quirky and flawed as you could imagine. But he made up for it by being loving and a real friend to other dogs and people, wherever he saw them, until cancer swooped in and took him from me. Most recently, Bear, a lab of almost three years, came to live with me. He was rescued as a stray in the wilds of Texas and when found was taking care of a litter of puppies, which may or may not have been his, so I knew he had a compassionate and nurturing heart.